Arabic and Gregorian Months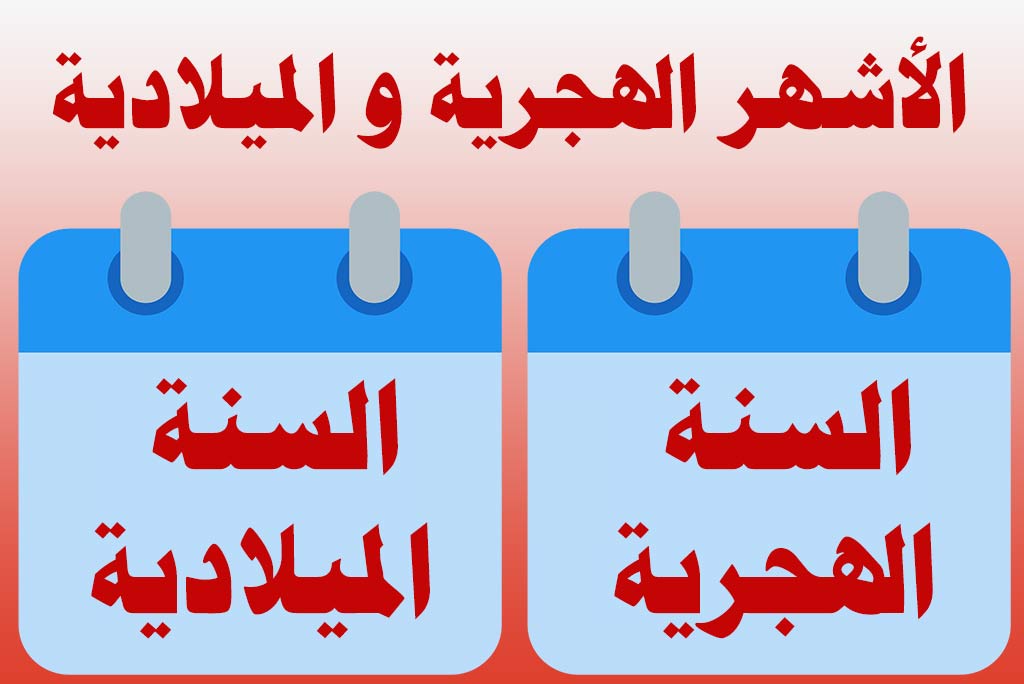 What are Hijri months (Arabic months) in order?
Some of us don't know Hijri month names or at least don't know their order. Do you know that Ramadan is the month number 9 in Hijri calendar? Hijri months don't run in a constant order with Gregorian months because the Hijri year is shorter than the Gregorian year.
Even, the Hijri months are not constant in length; the same month may be of a different number of days from year to year. But all Arabic months are either 29 or 30 days. In contrast, the gregorian months consist of a fixed number of days either 30 days or 31 days, except February which is 28 days and every fourth year becomes 29 days in the leap year.
As follows, we display Hijri and Gregorian months in order for comparison
Both of the Gregorian Calendar and the Arabic Calendar consist of 12 months as follows
Muharram - January (January) - Kanun ath-Thani
Safar - February (February) - Shubat
Rabī' al-Awwal - March (March) - Adar
Rabī' ath-Thānī - April (April) - Naysan
Jumada al-Awwal - May (May) - Ayyar
Jumada ath-Thānī - June (June) - Haziran
Rajab - July (July) - Tammuz
Shaban - August (August) - Ab
Ramadan - September (September) - Aylul
Shawwal - October (October) - Tishrin al-Awwal
Zul Qi'dah - November (November) - Tishrin ath-Thani
Dhul-Hijjah - December (December) - Kanun al-Awwal
Arabic Months in the Current Year 1445
| | | |
| --- | --- | --- |
| Order | Hijri Months | Number of Days |
| 1 | Muharram 1445 | 29 |
| 2 | Safar 1445 | 30 |
| 3 | Rabī' al-Awwal 1445 | 30 |
| 4 | Rabī' ath-Thānī 1445 | 30 |
| 5 | Jumada al-Awwal 1445 | 29 |
| 6 | Jumada ath-Thānī 1445 | 30 |
| 7 | Rajab 1445 | 29 |
| 8 | Shaban 1445 | 29 |
| 9 | Ramadan 1445 | 30 |
| 10 | Shawwal 1445 | 29 |
| 11 | Zul Qi'dah 1445 | 29 |
| 12 | Dhul-Hijjah 1445 | 30 |
Gregorian Months in the Current Year 2023
| | | |
| --- | --- | --- |
| Order | Gregorian Months | Number of Days |
| 1 | January - January - Kanun ath-Thani 2023 | 31 |
| 2 | February - February - Shubat 2023 | 28 |
| 3 | March - March - Adar 2023 | 31 |
| 4 | April - April - Naysan 2023 | 30 |
| 5 | May - May - Ayyar 2023 | 31 |
| 6 | June - June - Haziran 2023 | 30 |
| 7 | July - July - Tammuz 2023 | 31 |
| 8 | August - August - Ab 2023 | 31 |
| 9 | September - September - Aylul 2023 | 30 |
| 10 | October - October - Tishrin al-Awwal 2023 | 31 |
| 11 | November - November - Tishrin ath-Thani 2023 | 30 |
| 12 | December - December - Kanun al-Awwal 2023 | 31 |